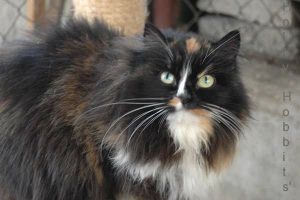 Ilse Schwender tells the story of her cat Frosya aus 
Nowosibirsk:
I bought her when she was three years and the cattery "Newskijs" closed. Mr. Schultz was a judge and often invited to Russia and the clubs in Russia offered him cats as payment. So was in 2001 known that in a barn of a farmhouse was a litter of semi-longhaired cats. The kitten had 5 weeks and ate on its own. They prepared the documents and he took the kitten to Germany. Mrs.Schultz told me that they wanted to know if she would carry the cp gen and classic/blotched. Frosya was mated three times with a NEM Valdis Scholkovskaja Maska and gave not birth to any NEM. Of course carriers were produced. In my cattery she had a blue boy which was a surprise.

She didn't carry CS (mated with nem and only Siberian offspring born) She carried dilution.
She died at 8 years of complication at birth.