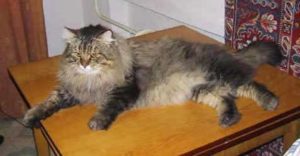 Yasha is one of my favourites foundation cats and I am very happy to be able to tell all we know about him here in this space with the help of Larisa Tapsalina, Dostoyanie Sibiri cattery from Kranoyarsk.
Yasha's owner Ozhkova Elvira, told us that he was born May 1992, died July 2010.  He died of old age at 18 years old.
Yasha was born in a neighbours house and the baby was given to Elvira. He is also from Kranoyarsk like Busik. When Yasha was shown and accepted as a Siberian foundation he was already a certain age, about 9 years old. Yasha was a very strong, muscular and large cat.
Here is the list of his offspring:
https://pawpeds.com/db/?a=o&id=183971&g=4&p=sib&o=ajgrep
He was seen by CFA judge Inna Shustrova, the same judge who accepted Busik as a Siberian foundation.
Yasha is the father of several bloodlines from different catteries like Adagio, Inonessi, Taezhnaya Skazka (with Busik as well present in these pedigrees).
Yasha was as we call in French a "raceur", meaning that he leaves strong imprint of type and several of his features. 
I leave here a photo of great grand son Taifun Adagio and his grand daughter Sharlotta Adagio to compare.