Vasiliy is a fundation cat from Omsk found in a street market by breeder and judge Natalia Kosareva owner of Sibirskaya Znat cattery. Here is how Natalia described her encounter with Vasiliy who was about 7 months at the time.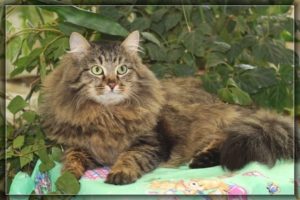 " Yes, I found him on the street in the market, he guarded the market with the watchman, the watchman told me that his mother was a phenotypic Siberian cat, he had a brother and sister in his litter, his brother was black in color. Vasiliy is very sociable, loves people, smart, funny. He has excellent coat texture and all the characteristic of a Siberian cat."
Vasiliy was tested for Cp and he is not a carrier and he was also tested PKD by clinical examination.
He became International International Champion in 2014. and he is around 8 years old.