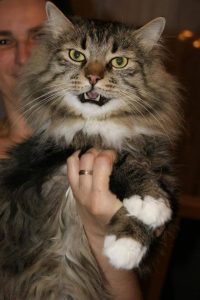 The Breeder Galina Karbe tells us about her amazing Pushok:
Our journey to the Siberian breed began with a small fur ball that jumped off my youngest daughter on my shoulder from a tree. He was gray, mustached, all striped with white paws and shirt on his chest. And yet, immediately it was clear that he would be hairy. In the animal hospital they determined that he was 2 months old, we checked it and vaccinated it. Our baby got the name Pushush. He grew up in a huge handsome man, and the delegation began to watch our cat. Everyone said that such a cat was never seen.
And in 1 year we went to the exhibition for the definition of the breed. We have come to the expert Ivar Plepis, Lithuania AB. He saw our cat, grabbed it and said: "What a great individual!" and told us that he is a Siberian.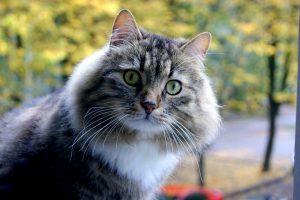 And he advised that if you want to go further, you should know, there are no Siberian girls in Kaliningrad, you will have to buy. In the evaluation sheet I wrote a recommendation to be nominated for the Beginners class, which we did. During the exhibition our cage was attacked by people with demands to sell the cat! On our objections that the cat is ours , we love him and is not for sale, they began to poke their phones with a request to tell when there will be kittens …. and we thought about it. At the next exhibition, experts from Baryshev (AB, MFA) and Mlenik (AB, MFA) confirmed the breed's compliance. We got a certificate and opened a nursery. Thus, the founder of our kennel became a certified cat Pushok n 23 03 And you know, after a while, I'm very proud that we have our founder! The first female was Oxi iz Losinogo Ostrova color ns 22.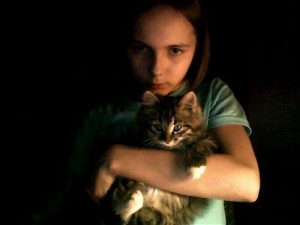 Pushok is alive and has several sons and daughter as studs and queens. He still lives with Galina and was sleeping beside her while we were writing this text and he will be 13 years old next August 2018.
He was found by Galina's family in a public park in 2005.
He doesn't carry cp gene.
She never made a blood test but never had problems with new born kittens , so he is likely to be a group A blood type.