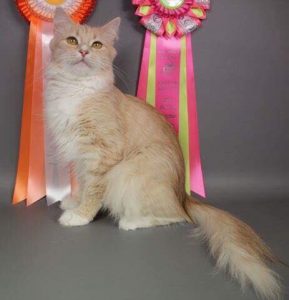 Marina Galaeva from Crown of Siberia cattery  tell us about the beautiful Marsina:

The former owner brought Marsina to our club in September 2016. I said that I can give an assessment to the cat and confirm that it corresponds to the Siberian breed standard. I am an expert of the WCF in a semi-long-haired and short wool group. The second expert of the WCF Lebedeva Natalia confirmed that the cat conforms to the Siberian breed standard. And Marsina received on October 5. 2016 a certificate of conformity to the Siberian breed.
Marsina received the Siberian breed at the International Cat Show in Moscow on June 24-25, 2017. Experts of the WCF Natalia Rozhkova and Marina Zhuravleva gave excellent marks to Marsina.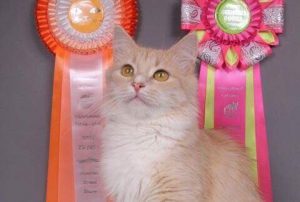 Marina will provide blood group and colour panel to know if Marsina carries CS gene but we know already beauty the beauty is a dilution carrier (cream)solid and classic carrier.

Blood group

Age

Area she was found