Marina Galaeva talks about the impressive Mars foundation and founder of Crown of Siberia bloodlines: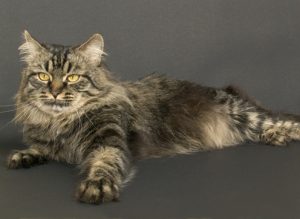 He was the main cat and the father of the cattery.  Mars was a big Siberian cat of a mackerel black tabby color and excellent type. The parents of Mars were unknown, so he has no pedigree. But he has more than one hundred gorgeous beautiful descendants (children, grandchildren, grand-grand grandchildren) who live in different Russian cities as well as in different countries such as Germany, Poland, Switzerland and Holland. Mars transmitted to his offspring strong bones, a splendid head, a long fluffy tail and a very kind temper.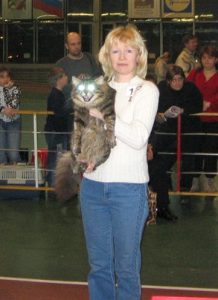 Mars was found by Marina Galaeva in 2002  when he was still a kitten. Marina thinks he was probably born June 2002. He was a solid, classic carrier but not a dilution carrier and he did not carry CS (mated with nem in 2003 and all kittens were traditional).
Mars died in March 2017 (he was 15 years old) of a tumor that was impossible to be removed surgically.
He was Marina's favorite cat.
Blood group is unknown.