Cica cattery was founded by Maria Pavlovsky, a Hungarian Russian teacher relocated in the USA.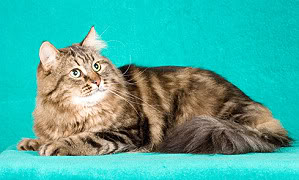 Maria is one of the first European breeders along with Melinda Csecserits, also Hungarian (Meda Garden cattery) and Ramona Breitsprecher, German breeder (Vom Schlosspavillion).
Maria's oldest Siberian was Lizetta Sarzhi, she brought her in the same trip she brought Fawn-Fawn. Lizetta came from Sarji cattery.
Fawn-Fawn's mother was foundation Lucy and she only had one litter, since the owner was not a breeder and Fawn-Fawn's father Yaroslav is the son off Svetik and Lada, also foundation cats.
https://pawpeds.com/db/?a=p&id=363553&g=4&p=sib&o=ajgrep
https://pawpeds.com/db/?a=p&id=246060&g=4&p=sib&o=ajgrep

In the picture below in this page, Lizetta is 11 years old, she became Supreme at the age of 11, earlier she was shown as new color new breed, then she had kittens and she got back to the show hall after she was 10. She lived the longest life, 20 years and 3 month, happily with Maria.
She got then Yolanta Black from the cattery Black. It was later in 1995.
Black solid is her favorite color and she traveled 3 times to Russia looking for a black Siberian.
Maria brought the first solid black to the US.
Later she brought Zlata Sibirskaya Taiga from the cattery Sibirskaja Taiga and Olesya Sibirskaya Taiga.
Finally, much later when she was looking for new lines and could not find anything she liked and she finally found and bought Golubka Sibirskoe Assorti (Sibirskoe Assorti had many cats from the cattery Black) and finally she bought Ivanka Veshchy Son.
Looking at one of Maria's pedigrees we see the name "Black" is mentioned after several cats and it can be misleading because these are Cica cats but Maria promised the Black breeder, Alla Maksimenko, to keep the name "Black" whenever Yolanta was present in the pedigree and Maria kept this promise for several generations.
By 2008 Maria wanted to refresh her lines and she picked Astera blood with Monte Ne Brownie boy which was a very clever move since these are also older Russian lines that we want to cherish and preserve.
She also was the owner of Alexander Ruzlana, daughter of Oleg Ocseni of Meda Garden, old Russian lines like Seliger, Charoit and free of nem. I will talk about Oleg in another page.
Maria managed to keep her lines free of nem and also free of the "Onix Gloria dominance" and there is no crazy wild inbreeding either, sometimes a little higher than we desire nowadays but we have there interesting genealogies.
All of Maria's lines are based on old Russian lines and free of nem and 99% free of Cp carriers.

It is an admirable work for over two decades and these cats are like gifts that allow us at Clean genealogy to have a beautiful variety of bloodlines and high diversity not seen anywhere else.
Maria had the pleasure of seeing some of our oldest cats and foundations like the foundation cats from Ashtau lines Mustasz and Basia, the magnificent Rossity Zeus born in 1999. several famous Sarji cats like Marius and many more.

Maria is a clean genealogy mentor and valuable member.